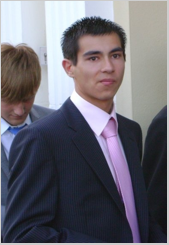 This is my personal portfolio on the right side you can find more information about me.
I'm a eighteen year old freelance web designer and front-end web developer based in Essex with two year of experience in the web design industry.
I studied BTEC National Diploma IT(BND IT) at Essex SEC College, my course is for two years. Im in my second year in college Im study Bussiness and IT. After leaving college I would like to go study in University.
I am currently available for freelance work. If you require more information about me then please feel free to request my CV.
What I do:
I think and create.
I solve problems.
I learn through experience.
I thirst for technology and opportunity
Oh… and I do a lot of stuff really well…
View my Services | FAQ | Read more about me
Boris Bonev (TektroB) is not a web design firm, company or agency—it's just me, my macbook pro, text-editor, and a few other tools. I offer a range of custom website services, covering all major aspects of professional website design. I thoroughly enjoy what I do, especially observing the results alongside my clients. If you may like to work together, please get in touch. And don't worry; if I don't think I can do your job well, I won't take it on—I've yet to start a project that didn't end up online and in my website portfolio.

&nbsp